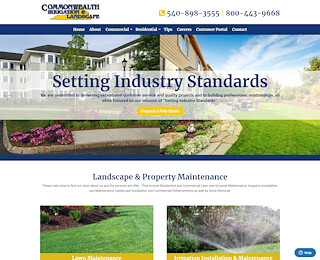 Get in touch with Commonwealth Irrigation and Landscape for commercial lawn maintenance in Fredericksburg. Visit our website to learn more about our services. Our client management staff works closely with your HOA boards and property managers to stay on budget, create common goals, and provide you with ideas that can help lower the costs in the long run.  
Do you own a commercial property with a lawn? Then you shouldn't skimp on landscaping. After all, your lawn will be the first thing customers see when they drive or walk up to your property. It is best to contact a professional for your commercial lawn maintenance requirements in Fredericksburg. Still not convinced? Here's what might happen if you fail to do regular lawn maintenance:
• Customers might think that you're no longer in business. If people see weeds gone wild around, they may think that your property is no longer occupied and your business no longer in operation. Improve your curb appeal with a well-landscaped lawn.
• You might have to deal with infestations. Without regular landscaping, harmful pests and animals may start living on your property. This is potentially dangerous to your customers and your staff. It is cheaper to maintain your lawn regularly than to pay for pest control.
• Your commercial property's value might decline. Looking to sell soon? Buyers will be turned off by an unmaintained lawn. Even simple trimming and basic landscaping can dramatically improve your property's appeal to potential buyers.
For reliable commercial lawn maintenance in Fredericksburg contact Commonwealth Irrigation and Landscape. Our certified technicians are trained to handle all types of landscaping projects, whether it be for commercial or residential properties. To contact Commonwealth Irrigation and Landscape, fill up the form here on our website or call us at 540-898-3555 or 800-443-9668.
Commercial Lawn Maintenance Fredericksburg VA