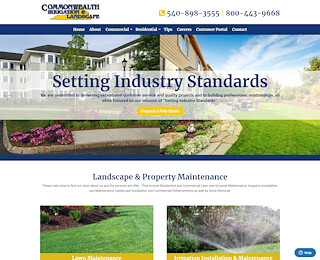 Are you looking for  a company that specializes in irrigation systems in Caroline? The experts at Commonwealth Irrigation and Landscape can help. We specialize in the design and installation of irrigation systems that can produce long-lasting and high survival rates for existing lawns and new sods. This way, you can easily maintain plants regardless of your type of landscape. You can learn more about our services in our website.  
A well maintained lawn does so much more than just giving your home some curb appeal. When your lawn and garden looks good, the value of your property actually goes up. A well kept lawn can also help in preventing flooding. Best of all, it can add extra entertaining space to your home. Invest in good irrigation systems in your Caroline property to improve your lawn.
When you have an irrigation system, you can actually save money on water bills. What's more, you can save yourself from the hassle of watering your plants every day. The only thing left for you to do is make routine inspections. This means you have to check if the sprinklers are working properly and that there are no leaks.
When you set up your irrigation system, make sure to divide your lawn into zones. Areas that only have grass will not need as much water. Priority should be given to shrubs and flower beds. With divided zones, you can then incorporate the cycle and soak watering. 
If you need help in installing or creating irrigation systems for your Caroline home, contact Commonwealth Irrigation & Landscape. Our technicians are highly trained and offer quality workmanship. If you are interested in having Commonwealth Irrigation & Landscape handle your irrigation system, please download the residential irrigation service contact here on our website.
Irrigation Systems Caroline VA