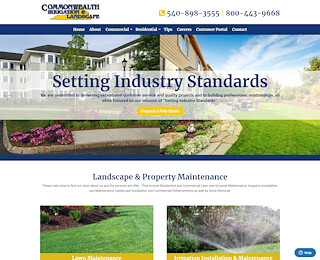 Commonwealth Irrigation and Landscape can customize irrigation systems that are suitable for your King George property's unique landscape features and lot size. Our goal is to design and implement a cost effective and easy to maintain irrigation system while ensuring better coverage in watering your lawn. Visit our website for more details.  
You can save a lot of money on water bill if you invest in the correct irrigation systems for your King George properties. Thanks to technology, you no longer need a green thumb to maintain a lawn or garden. You just need the right equipment and some help from professional irrigation system installers. 
You might notice that your water bill is exceptionally high and yet your planets are wilting. This doesn't mean that they still don't get enough water—in fact, it means that they are drowning. To solve this problem, opt for the cycle & soak watering method, which ensures that the soil actually absorbs all the water. Instead of running your sprinkler zones for 20 minutes each, you can run each zone for just a few minutes at a time—typically 5 to 8—so that the soil can actually absorb the water and it does not run off onto the sidewalk. The ideal schedule and frequency will depend on a lot of factors like the composition of the yard, the slope, and other such things. 
Is this too complicated? Have a professional set up your irrigation systems in King George. Irrigation systems are long-lasting solutions or any type of lawn or garden. Commonwealth Irrigation & Landscape can help in installing the right irrigation system for your property. You can learn more about our services when you browse our website. For inquiries on our services, please fill up the online form or call Commonwealth Irrigation & Landscape at 800-443-9668 or 540-898-3555.
Irrigation Systems King George VA