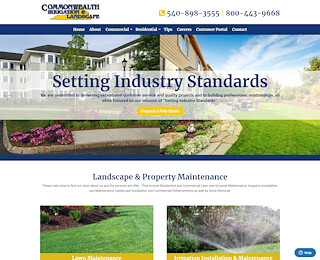 Are you looking for a new lawn sprinkler system? Commonwealth Irrigation and Landscape can give you a lot of options when it comes to irrigation systems in Stafford. Our expert technicians will analyze the characteristics of your lawn so we can design and install the most efficient watering system for it. Learn more about our full service irrigation service in our website.  
Irrigation systems in Stafford should be maintained regularly for them to work efficiently. If you have an old and inefficient irrigation system, maybe it's time to invest in a new one. You might not realize it, but your old irrigation system can actually be costing you to waste a lot of water, and therefore costing you serious money. It probably also needs frequent repairs—which means more expenses. Installing a new irrigation system can actually come out cheaper.
Modern irrigation systems are now very smart—they can be set according to the landscape, soil type and plant types. They can even check for precipitation. Plants usually need the same things—water, fertilizer, and sunlight--but the amount of water it receives should be exact. The same goes for soil. Different types of soil absorb and hold water differently. Some need several minutes to fully absorb water and therefore have a higher risk of drowning. Landscapes are also taken into consideration. If your lawn or garden slopes down, just put the sprinkler at the top and let the water drip to the bottom.
For more irrigation systems solutions in Stafford, contact Commonwealth Irrigation & Landscape. Our qualified technicians are highly skilled and can offer the latest solutions. To know more about our products and services, just browse our website or fill up our inquiry form. We can provide access to our project calendar and lawn maintenance calendar here on our website. For other information on Commonwealth Irrigation & Landscape, call 540-898-3555.
Irrigation Systems Stafford VA