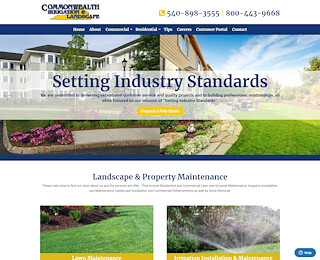 Call Commonwealth Irrigation and Landscape for complete landscape installation services and maintenance. Tell our landscaping Fredericksburg division about your project. Our professional staff can design and execute a landscaping plan, regardless of size and difficulty. We can provide walkway and patio installation to transform your outdoor area, and we can put up retaining walls to provide more usable space on your front or backyard.  
Landscaping in Fredericksburg isn't just about laying grass and planting shrubs. It takes much more than that to improve the curb appeal of your home. It doesn't even matter if you have a small or large space--the important thing is to utilize that space depending on what best suits the theme or style of your home or neighborhood and of course, your budget. Here are some other things to ponder on when landscaping your lawn or garden in Fredericksburg:
• Path or walkway - You'll be thankful to have a concrete walkway, especially during the rainy season. Aside from saving your foot from the mud, pathways can prevent your lawn from balding.
• Lights – Installing lights means you can always enjoy your garden even when the sun is out. Invest in appropriate backyard lighting. Why not try solar-powered ones?
• Water features - Whether you go for a small fountain or a large pond, it will definitely add another layer of creativity to your lawn.
If you require professional landscaping services in Fredericksburg, just contact Commonwealth Irrigation & Landscape. Our company has years of experience in handling commercial and residential lawns. To find out more about us, just access our project and lawn maintenance calendar. For inquiries, please fill up our feedback form. You may also reach Commonwealth Irrigation & Landscape by phone at 540-898-3555 or 540-898-3555. We also offer tips for lawn maintenance, water conservation, and more for DIY homeowners.
Landscaping Fredericksburg VA