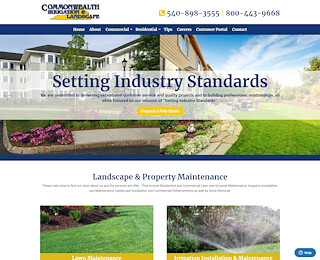 Let the professional staff at Commonwealth Irrigation and Landscape transform your outdoor space into a more useful and beautiful area for your plants and for entertaining. Call us for any landscaping needs in Stafford. We can work on any size project size, whether you need a total overhaul or a single tree installation. You can learn more about our services in our website.  
Before the actual landscaping process for your Stafford VA property is started, you need to sit down with a landscape designer and come up with a plan. Here are some important things to think about during the design process:
• Use - What will the lawn or garden be for? Are you looking to simply to improve your home's curb appeal? Or will you use the space as an extra play area for the kids? Do you want your lawn and garden to help cool down the temperature inside your home? Do you want to be able to entertain that space? 
• Theme - There are many landscaping themes. The look that you are envision will help determine which plants suitable and what structures, if any, have to be built.
• Resources – The design has to take into consideration factors like your water line, the slope of the land, etc. The best way to create an efficient lawn and garden is to invest in an irrigation system.
Commonwealth Irrigation & Landscape can help design and install the proper irrigation system for your property. What's more, we can offer landscaping services in Stafford VA. Our company is one of the best when it comes to irrigation and landscaping for residential and commercial properties. You can learn more on our services by browsing our website or filling up our inquiry form. We will get back to you as soon as we can. Commonwealth Irrigation & Landscape can also be reached via phone at 540-898-3555.
Landscaping Stafford VA