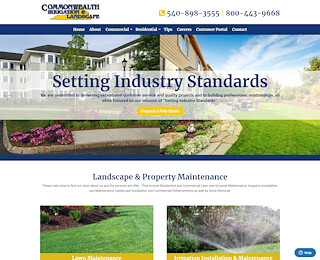 Commonwealth Irrigation and Landscape provides comprehensive lawn care services and maintenance for Stafford commercial and residential properties. Visit our website and contact us so we can develop a lawn maintenance program that is best for your budget and your property. Fertilization programs, trimming and turf mowing, spring clean-ups, and mulching are some of our maintenance services.  
Lawn care in your Stafford property should be taken seriously. You might not know it, but you can actually be doing a lot of damage to your lawn when you don't use fertilizer properly. Here are some things you should avoid:
• Fast-release chemical fertilizers - This fertilizer will definitely make your lawn greener in no time but it is tough on the environment. When not applied correctly, it can burn your grass.
• Weed control starter fertilizer - This type of fertilizer will prevent other seeds from germinating, not just weeds.
• Not following the instructions - Read the instructions on boxes carefully and follow them. This includes instruction on the type of spreader or dropper to use.
• Fish, blood, or bone meal fertilizers - This should be avoided especially if you have pets. Dogs can end up eating them.
If you find it hard to DIY your lawn care in Stafford, just contact a professional. Commonwealth Irrigation & Landscape has been providing full services for residential and commercial properties. Our technicians are highly trained and can offer modern and long-lasting solutions for your lawn. Click the customer portal here on our website to access our residential irrigation service contract. If you have any questions, you may reach Commonwealth Irrigation & Landscape via phone at 800-443-9668 or 540-898-3555.
Lawn Care Stafford VA