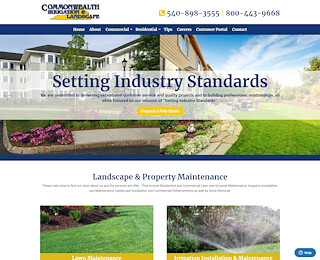 Commonwealth Irrigation and Landscape understands that your property in Fredericksburg has unique requirements when it comes to lawn maintenance. This is why we will work closely with you to develop a unique program that is suitable for your property and your budget. We hope that we can provide you with the best lawn care service that can keep your outdoor spaces looking their best. Contact us through our website for more details.  
An important part of lawn maintenance in Fredericksburg is using the right fertilizer. It's true—there are dozens of options available in the market, but which one is best for your lawn? It all depends on your needs, your budget, and even your environment. For example, if you have pets, you might not want to use blood or bone meal fertilizers that they might end up ingesting. Here's what you can do regarding fertilizers:
• Opt for organic or slow-release fertilizers - They may not show immediate change but they are certainly good for your lawn in the long run. Using too much will not damage grass.
• Limit fertilizer applications - Don't apply fertilizers every time your lawn is looking a little brown. Twice a year should be sufficient.
• Check the label. A lot of homeowners fail to read and follow instructions precisely. It is best to check how much potassium, phosphorus, and nitrogen are used.
If you are having a hard time maintaining your lawn, have Commonwealth Irrigation & Landscape do everything for you. Aside from offering lawn maintenance in Fredericksburg, we can also offer landscaping services and install irrigation systems. Feel free to browse our website to know more about us. If you want to book our services, please download and fill up the residential irrigation service contract here on our website. You may also call Commonwealth Irrigation & Landscape at 540-898-3555 for inquiries.
Lawn Maintenance Fredericksburg VA