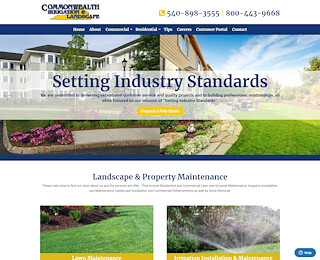 If you need some serious lawn maintenance in Stafford, be sure to contact the experts at Commonwealth Irrigation and Landscape. As a lawn and landscape care service provider, we are dedicated to helping you keep your landscape and lawn beautiful and neat. We can develop a program that will include all your lawn and landscape maintenance needs.  
Lawn maintenance in your Stafford property can be a bit tricky, and you could be making mistakes without even realizing it. For instance, most homeowners keep adding fertilizers to their lawns without knowing that there is such a thing as 'too much.' Fertilizers in huge amounts can encourage your grass to grow faster than it should, making your entire lawn vulnerable to insects and diseases. Once every year should be enough fertilizer for your lawn.
If you do not have time to mow every weekend or every other weekend, you can always just hire someone to do this for you. But the absolute best way to maintain your lawn is simply to invest in a good system—this includes fertilizing and watering. Watering plants is one of the most important tasks. Professionals can easily set up a lawn system for you to ensure that all your plants get enough water while preventing overwatering. This will not only give you a green and lush lawn but also save you money on utility bills. Sprinklers are set up in the most efficient spots, so no water is wasted watering the pavements. 
For all your lawn maintenance needs, contact Commonwealth Irrigation & Landscape. Our company has years of experience in lawn maintenance in Stafford and we can also offer landscaping services. Feel free to browse our website to see what we can do for you. If you have inquiries for Commonwealth Irrigation & Landscape, call us at 540-898-3555.
Lawn Maintenance Stafford VA