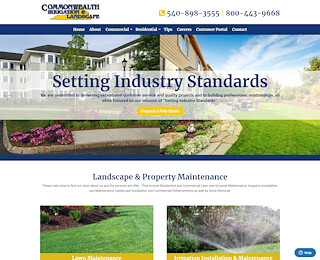 The professional landscape technicians at Commonwealth Irrigation and Landscape provide the best lawn service in Stafford. Call us for any landscape or lawn maintenance needs, from turf mowing, trimming, fertilization, leaf removal, aeration, mulching, to fall over-seeding. Our services are available for both commercial and residential clients. We will work closely with you to create a unique lawn maintenance program for your needs.  
As a homeowner, you are—by law—responsible for the upkeep of your lawn. You probably don't have the time to truly maintain your garden, so it's more practical to sign up for regular lawn service in Stafford to keep your lawn green and healthy. There are also certain things you can do:
• Hold back on the fertilizer. Once a year should be more than enough for a regular-sized lawn--any more than that and you might end up killing your grass.
• Regulate water intake. Make sure you aren't drowning your plants. If you water too much, you'll end up with a high water bill and dead grass. Hire professionals to create an irrigation system for your lawn.
• Prevention is key. Before any problems arise, have your lawn checked by professionals. It might also need to be aerated once a year.
• Mow it right. Some people fail to see the importance of a sharp blade. They also think the shorter the grass, the better. What they don't know is that sometimes, grass needs to be at least 3 inches tall to survive.
For more tips on maintaining your lawn, just browse Commonwealth Irrigation & Landscape's website. Our team is dedicated to providing complete lawn service for homes and commercial establishments in Stafford. If you have inquiries about our other services, like landscaping and irrigation design, please call Commonwealth Irrigation & Landscape at 540-898-3555 or 800-443-9668.
Lawn Service Stafford VA