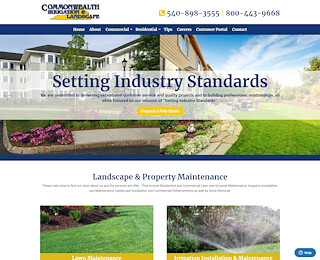 Learn about lawn sprinklers Fredericksburg from our experts at Commonwealth Irrigation and Landscape. We design and install custom irrigation systems for home and commercial use. Our lawn sprinklers will evenly and sufficiently water your plants and lawn, so you can save water and be sure that everything is covered. For more a more efficient sprinkler system, we provide automatic features like a timer and a rain sensor to sprinkler systems.  
Like most homeowners, you probably don't have enough time to water your lawn regularly. This is why it's more efficient to install lawn sprinklers in your Fredericksburg property. There are several types of lawn sprinklers but one of the most common is the 'pop-up.' This kind of sprinkler can either be stationary or rotary and is usually used for residential and small commercial lawns.
Lawn sprinklers tend to deliver a stream of water continuously. They are fitted with nozzles to deliver water through a full arc, half circle, or quarter circle. You have to be careful when using pop-ups as they tend to drown lawns. A good irrigation system is needed so that the water can be shut off and on when needed. You might also want to invest in a rain device. It measures the amount of precipitation to ensure that the lawn sprinkler does not overwater a lawn that's already wet. The amount of water to be delivered is of course predetermined, depending on the type of soil and kind of grass you have.
If you need help in choosing the lawn sprinklers for your Fredericksburg property, just contact Commonwealth irrigation & Landscape. Our company handles commercial and residential properties. Our staff is well-trained and even attends annual courses to be up-to-date on the latest irrigation and landscaping techniques. Give us a call at 540-898-3555 or 800-443-9668 and Commonwealth Irrigation & Landscape will get to you shortly.
Lawn Sprinklers Fredericksburg VA