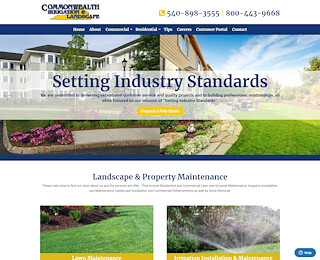 Commonwealth Irrigation and Landscape specializes in a wide range of landscaping solutions, including the design and construction of patios and retaining wall installation in Fredericksburg. Our company is a certified Allan Block installer, so you have a wide variety of colors and styles to choose from. Hire us to build your retaining walls. We can secure the necessary permits and make sure that the retaining walls are professionally engineered.  
Retaining walls are important to support soil and prevent it from moving downhill due to erosion. The most important reason for retaining wall installation in Fredericksburg is to fight gravity. Hence, the design of the retaining wall must work to offset a slope's lateral force. Improper retaining wall installation is often attributed to the absence of a good drainage mechanism in the design and failure to build a strong wall that can handle pressure from the hillside. This could cause the wall to lean, crack, or bulge.
Interlocking blocks and poured concrete retaining walls are popular with modern and contemporary properties, and they last longer than timber walls. Natural stone is another option to make a strong and attractive retaining wall.
The design of your retaining wall should depend on your location. Be sure to work with a landscaper and retaining wall installation specialist in Fredericksburg. Commonwealth Irrigation and Landscape will make sure that your land is well prepared with high-quality irrigation and retaining wall construction.
Commonwealth Irrigation and Landscape has in-house engineers to make sure that your retaining walls are properly constructed and built after the approval and inspection of your local authorities. Our status as a certified installer of Allan Block products enables us to use the finest methods and products for retaining wall installation. We have access to the wide variety of colors and styles of retaining wall products and materials from EP Henry and Eagle Bay, too.
Retaining Wall Installation Fredericksburg VA