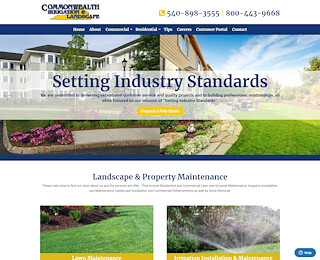 Retaining wall installation in Stafford is a large project that needs to be approved and inspected by qualified engineers. Commonwealth Irrigation and Landscape has the qualifications to construct engineered retaining walls. We provide professional and licensed engineers to approve and inspect all drawings, too. Contact us through our website to learn more.  
If your property needs extra support to prevent soil erosion, you need to consider high-quality retaining wall installation in Stafford. Retaining walls are typically built to prevent soil from moving downhill. They are designed to offset the lateral force of a slope. However, there are other reasons why you might want to have a sturdy retaining wall built on your property.
For many centuries, people have relied on retaining walls to build terraces on slopes. This way, the land can be useful and suitable for planting and farming. Retaining walls are still used to this day, particularly on landscaped properties that require useable land. They can make landscaping easier if you want to maintain a level area, too.
Retaining walls may reduce the speed of rainwater runoff and prevent soil from running off your property. This way, retaining wall installation can contribute to proper lawn care and gardening. Retaining walls can be attractive elements in your garden, too, especially when they are made of high-quality blocks or natural stone, and they can serve as extra seating when you are entertaining guests outdoors.
Before getting started in retaining wall installation in Stafford, remember to hire a reputable and qualified contractor like Commonwealth Irrigation and Landscape to do the job. Most jurisdictions in Virginia recommend retaining walls that are over two feet tall to have a permit and to be properly engineered. This way, you can be sure that you are building a durable retaining wall that can promote overall safety for your community, too. Commonwealth Irrigation and Landscape is qualified to build engineered retaining walls. We are also a certified installer of Allan Block, EP Henry, and Eagle Bay products.
Retaining Wall Installation Stafford VA